OKANAGAN CEILING REFINISHERS, Kelowna, BC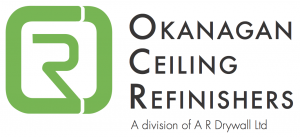 The Premier Drywall Company and Ceiling Refinishing Specialists
Okanagan Ceiling Refinishers are based in beautiful West Kelowna, British Columbia, Canada. We are ideally located to service the Okanagan area.
Don't let the name fool you, we are a full drywall service company too.
We produce the finest workmanship and quality ceilings in the valley. We refinish all types of ceilings from textures to smooth ceilings. We repair, paint, insulate or completely restore a drywall project.
'Putting People First' is our value and 'Craftsmanship' is our focus.
We have a truly unique drywall team.  Customer service is a passion, reliability, and excellence is our promise.
Most of our referral based work in generated through these principles.
No job is too big or too small for us. We like challenges and are passionate in transforming homes and seeing the smiles on our clients' faces when we are done!
Let our experts guide and advise you. We know the construction process very well.
We are the preferred choice by most local restoration and renovation companies. When the highest quality is required, they call us.
We are licenced, insured and bondable.
Your complete satisfaction is our goal.
"Ceilings you can live with"
Contact us for a Free Estimate!
Phone: 250.826.2598