We believe that the interior finishing of the drywall and ceilings sets the standard in home renovations.
We make the "Blank Canvas" (that are your walls and ceilings) the highest standard to showcase all interior finishes.
The best renovations have high standard finishing.
Refinishing
The term refinishing implies revamping or remodelling something to give it a new look or to bring back the previous look.
Wear and tear, years of repainting, fashion, cooking, pets, accidents, disasters, heat, cold all affect the finish of the interior and exterior finishes.
After a few years of these types of variables, finishes become tired, out of date, unsightly and not worth sprucing up with paint alone.
This is where we come in. We specialize in refinishing interior drywall to make it look like "Brand New"
In European countries and in particular the UK, they call this Re-plastering. This takes the walls and ceiling finishes back to their former glory, thus creating a new background for the quality renovation.
In North America, including Canada, drywall is used as a cost-effective manufactured perfect finish. This is subject to the quality of the tradesperson that installed the manufactured board and the thoroughness of the finisher that jointed and finished the board. Sadly, there are various standards of installers and finishers. Some cut corners in the installation and finishing and this is where we help. We identify the poor workmanship and can fix it.
Texture was used on ceilings to hide imperfections in the finishing when first introduced, it was used to speed up production at low cost. In the early years this was quite ugly and over time has progressively become a finer finish. It wasn't until around the early 2000's that the texture became fine to almost an orange peel type of look and the standard of jointing on the ceilings needed to be raised as the finer texture did not hide the imperfections of a poor job. Going back to the 60's, the texture was heavy almost like a Christmas cake look. In the 80's and 90's a heavy, thick splatter of sprayed texture. All of which are porous materials and absorb all sorts of contaminants from smoke, cooking, pet smells, past owner odours, food, insects, cobwebs, wine, you name it we've seen it! All of these items are most likely from the previous homeowners and maybe some of your own.
Depending on your budget, the ceiling finishes can be repaired, repainted, re-textured or transformed into a "Brand New" looking smooth painted ceilings.
Imagine this for a moment…….patching a 1980's carpet and giving it a shampoo clean to make do, or painting over a 1960's Arborite kitchen to make it look more modern or trying to flatten and patch up curled up shingles on the roof. No Thank you! It needs to be "Refinished"
Refinish to "Brand New"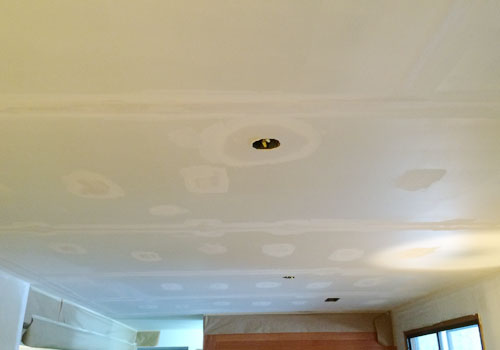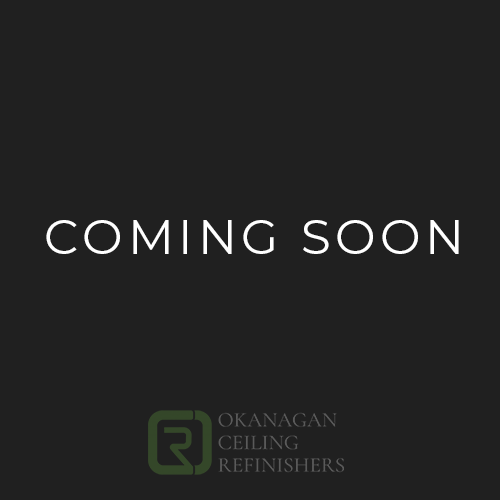 Our Repairs
We get to the root cause of the problem when initiating our repairs.
Most cracks are from products of poor workmanship. incorrectly installed drywall or corners that have been cut. We ensure that our repairs are solid and last the test of time.